Lenovo Laptop Screen Service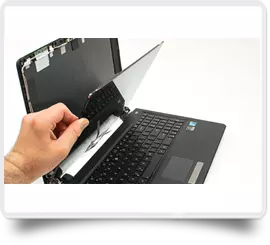 Laptop LCD LED Screen repair: We can offer you a wide range of screen repair services. The problem is due to cracks in the screen due to physical damage, we will replace laptop screen for you. You can bring in any laptop of any brand or any make and we can guarantee you a great repair service. Cracked screen or black screens will never be a problem again. We have a wide consumer base and there are hundreds of clients who simply bring their old laptop to us and leave with a refurbished laptop with improved performance. All the laptop screen replacement is done in accordance to the make of your laptop.
We ensure that the new screen is fully compatible with your system and that you get to view the brightest and the best colors on your screen. Our expert LCD LED screen repair technicians will make sure the right LCD LED screen is selected and installed for your notebook model.
We Repair Broken Or Defective Laptop Screens: We offer professional PC Laptop screen replacement with the most reasonable price. I use original brand new screen and offer one year warranty for the screen I installed. We have all common sizes screens in stock, 8.9″LED, 10.1″LED, 11.6″LED, 12.1″, 12.1″LED, 13.3″, 13.3LED, 14″, 14.0″LED, 14.1″LCD, 15.4″LCD, 15.4″LED, 15.6″, 15.6″LED, 16″, 17″, 17.3″LED, 18.4″…
Laptop display problems we can help with: Dull or dark display, Flickering screen, Cracked or damaged screen, Intermittant or No Display, Broken screen hinges, Broken LCD screen, Broken LED screen, Broken display bezel, Faulty LCD backlight inverter board, Any other display faultsWe handle all sorts of LCD / LED screen repair issues including LCD / LED screen replacement, back light issues, loose or cut wires and dimmed LCD / LED screens.
Laptop Store diagnose your computer problems at no extra cost or we can access your computer remotely for certain computer repair services such as Virus Removal, PC Maintenance, Networking issues and any other software related problems.
If your laptop's Screen is cracked, dark, or is having problems please give a call to us.
Call Supports(Chennai): 9500066668 , 9500066661
Call Supports(Bangalore): 9844422466, 9844411822
Call Supports(Pune):9545222237, 9545222284
Call Supports(Mumbai):7710006883, 7710006884
Some Lenovo Laptop Models Which We Serve:-
Lenovo 3000 N100 Series | Lenovo 3000 G400 Series | Lenovo 3000 G410 | Lenovo 3000 G530
Lenovo Essential B460C | Lenovo Essential G460 | Lenovo Essential G570 | Lenovo Essential G880
Lenovo G470 | Lenovo G550 |Lenovo G560 | Lenovo G580  | Lenovo G505 | Lenovo G585 | Lenovo G480  | Lenovo G500 | Lenovo G530
Lenovo Z570 | Lenovo Z560 | Lenovo Y410P | Lenovo W500 | Lenovo Flex 2 – 14 | Lenovo Flex 2 – 15 | Lenovo g50 – 70 | Lenovo g50 – 80 | Lenovo E450 | Lenovo b50 – 80
Lenovo IdeaPad B560 | Lenovo IdeaPad B570 | Lenovo IdeaPad G550 | Lenovo U410 | Lenovo U400 | Lenovo IdeaPad S10 – 1 | Lenovo IdeaPad S10-2 | Lenovo IdeaPad S10-3 |Lenovo IdeaPad Y400 – Series | Lenovo IdeaPad Y500 Series | Lenovo IdeaPad Y410 | Lenovo IdeaPad Y510 | Lenovo IdeaPad Y560 | Lenovo IdeaPad Y570
Lenovo ThinkPad SL400 | Lenovo ThinkPad SL500 | Lenovo ThinkPad SL510 | Lenovo ThinkPad T400 T410 T420 T430 T500 T60 T61